Why You Should Try Moto Camping
In this very first episode of Epic Rides – The Podcast, hosts Noel Linsey and Dallas Mitchell share some insights on why you should try moto camping. Learn about who the heck these two knuckleheads are and Noel does an overview of why he thinks moto camping is the best way to explore when on a motorcycle adventure.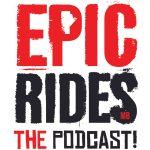 Are you looking for a new experience exploring Manitoba, off the beaten path, on your motorcycle? Is your journey as important as your destination when you ride?
Join one of our moto tours and become part of a group of like-minded fun-loving people who are hitting the open road for fun, multi-day journeys of riding, camping, and good times!
Join the Adventure!