In this episode, Noel and Dallas share some helpful tips and tricks for new riders to get started moto camping. From freeze-dried meals to not having a motorcycle fall over on your tent, there's a ton of great info in this episode to get you started!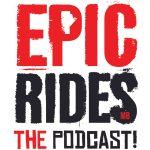 Are you looking for a new experience exploring Manitoba, off the beaten path, on your motorcycle? Is your journey as important as your destination when you ride?
Join one of our moto tours and become part of a group of like-minded fun-loving people who are hitting the open road for fun, multi-day journeys of riding, camping, and good times!
Join the Adventure!