Who the hell is Noel Linsey?
Life is an adventure . . . and also a highway (at least according to the pride of Lynn Lake – Tom Cochrane). For Epic Rides Host/Writer/Producer, and Epic Rides Moto Tours Owner and Principal Guide, Noel Linsey, there's an overwhelming truth to that statement. From living in the mountains to a decade travelling North America as a musician and more expeditions to remote locations than he can count as an adventure junky, Noel has made a life and career of travel and adventure.
Over the last decade, Noel invested in his love for outdoor adventure, becoming a proficient hunter and fly angler as well as a die-hard backcountry canoe tripper, which has formed his professional life in many ways; first using his unique skillset to teach newly minted outdoors people how to catch, hunt, clean and cook their game and fish through his work with Manitoba Wildlife Federation and later through his own outdoors network – The New Tradition Outdoors.
Before founding Epic Rides MB and Epic Rides Moto Tours, Noel worked as a professional photographer, videographer, and writer working with tourism operators, television networks, and the federal government to produce captivating, entertaining content for digital platforms and television.
Noel's love of all things motorcycle stems from spending lunch hours at a now-defunct motorcycle shop during middle school, dreaming about exploring the world by motorcycle. In his 20s, Noel finally got his hands on a dirt bike – a clapped-out YZ250 which solidified his love for going fast and getting dirty. Later in life, Noel finally got his first adventure bike and fell deeply in love with the freedom of 2 wheels. As an adult-onset motorcycle addict, Noel quickly learned that many of the skills he'd learned bombing around single track on his dirt bike transferred to heavy adventure bikes, and Noel found his passion in all things dual sport and adv bikes. (Don't worry all you Harley heads out there, while his preference is for knobbly tires and long travel suspension, he absolutely sees the joy in a beautifully built bobber, cruiser, café racer, and anything else that has 2 wheels and a motor . . . yes, even you sport bike nerds have a place here with Noel and Epic Rides!)
Today, Noel is a skilled outdoors adventurer, be it from the stern of a canoe to the saddle of his motorcycle, exploring the backcountry lakes, rivers, backroads, and hidden highways of Manitoba, Canada, and the world.
So that's Noel; now why the hell should you try moto camping? Okay, picture this . . . it's the summer of 2021 . . . powersports retailers can't keep stock on the floor. Partly due to supply chain issues and partly due to a steep influx of freshly minted new riders buying bikes faster than dealers can bring them in . . .
I'm going to break a basic law of narrating at this point and switch to the first person because . . . well because . . . as Judas Priest frontman and OG leather daddy Rob Halford says, I'm "Breaking the law! Breaking the law!" (No shade here, Judas Priest is amazing, and Rob Halford is a badass.)
Aaaanyways – I remember walking into a dealership one sunny day in June 2021, asking about the possibility of taking a Yamaha Tenere 700 out for a test, with the plan of purchasing if I liked it. Looking around the sales floor didn't fill me with great hope that they would have one in stock. In fact, the only thing on the floor at the time was a couple of MTs and a BMW – I think it was an R nineT . . .
When I inquired, the bored-looking and bemasked sales guy simply laughed and said, "good luck finding one!"
In 2020 and 2021, powersports sales in Manitoba, at least, and my guess is the whole country, hit an all-time high. My example is simply one story in a sea of similar tales I've read online. Over the course of 2 years, people have been bored out of their minds, and with nice weather finally hitting after another long, lonely winter, folks that had always wanted to learn how to ride decided "now is the time." New riders snapped up motorcycles, emptying the dealerships faster than the woefully unprepared supply chains could support.
In 2021, it was also nearly impossible to book a motorcycle safety course as well, a trend that continued well into 2022 and an issue that I predict will continue this year.
So, what does a couple of years of banner motorcycle sales mean to moto camping? Simply this; as we slowly creep into another riding season here in the frozen prairies, there are currently countless shiny new motorcycles sitting in garages all over the country. The riders of those motorcycles are champing at the bit to get out and experience what those of us with a few miles under our belts already know – the freedom and dopamine dump that comes with throwing a leg over the bike and cracking the throttle; the visions of adventure and the promise of the open road dancing through our heads . . . The reality? Many new riders (and more seasoned riders, I've come to find out) know that they want to get out and explore, however, they look at the cost of moto touring, and suddenly that promise of freedom and adventure seems a little further off than they initially expected.
So many riders stick to the same tired routes that they learned early. A quick ride to the local coffee shop, maybe a ride to the beach or an afternoon of pretending to be interested enough in the world's largest wood tick statue in Armpit Hair Manitoba to cajole a buddy into a day trip. There's nothing wrong with any of these rides, but speaking from certainty here, I doubt these are the kinds of adventures many riders dreamed of when they brought their new ride home.
Motorcycle riding for many is about the freedom of adventure, and the ultimate way to experience it is to sell everything, pack what's left and head out on an around-the-world trip . . . or so it would seem, but that's an unfeasible dream for many. For one, many riders are in long-term relationships or have children, and their partner probably doesn't share the dream of picking bugs out of their teeth in some small town in the middle of an unfamiliar country for a year so that their partner can "have an adventure."
Look, I get it. Hotels and restaurants are expensive, and taking a year off of work seems a little unreasonable to many. Plus, many people enjoy hanging out with their significant others . . . oh, and it takes saddle time and skills training to build the necessary confidence to be comfortable off the beaten track.
Why the hell should I try moto camping?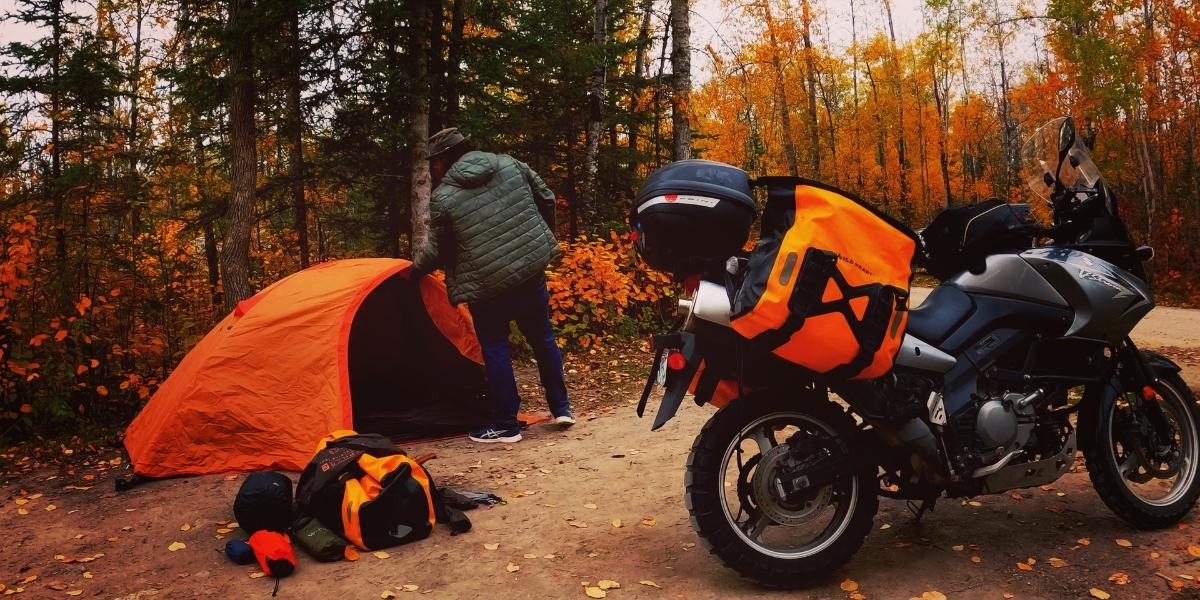 But what if I told you that there is an easier, more affordable way to experience adventure for even a couple of days beyond booking a (WARNING SHAMELESS PLUG INCOMING!) guided motorcycle trip with me . . . although that is definitely a great option for those of you looking for some hands-on adventure and moto camping skills training all while exploring some of Manitoba's greatest hits . . . but I digress.
My absolute favourite way to experience travel and adventure by motorcycle is moto camping. In fact, I love it so much that I'll forgo the hotels and restaurants almost every time. Hell, I built a business around it!
We know riding a motorcycle is a visceral feeling and the ultimate form of freedom. You get to interact with the world and travel within it instead of being separated by two tons of metal. From rain to sun, wind to bugs, you are in the elements and truly experiencing your surroundings. Have you ever been riding up a particularly beautiful stretch of highway and caught the scent of the pines after a fresh rain or the smell of a cedar grove in the morning on a beautiful August day?
For those of us who love camping, that feeling of interacting directly with nature instead of simply looking out the window of some nameless hotel room feels much the same way. Both camping and motorcycle adventure gives you a sense of being part of the world instead of simply observing it, completely removed from its splendour. Yes, even mosquitos can seem splendorous in the rose-tinted glasses of memory . . . especially when the temps outside are hovering around -30 Celsius (as it is at the time of this writing).
So, there's that. There's also the cost factor. It's hard to justify $150 per night at a hotel or even $75 (in some places that are so bad, even the bed bugs have bed bugs). The average cost of a campsite here in Manitoba is right around $20 per night at a proper campground, and free if you're willing to get off the beaten path and onto crown land. Eminently more affordable when you're planning on heading out for an adventure.
The other factor that makes moto camping the absolute best way to explore (at least for me) is disconnecting from the day-to-day nonsense of chasing emails, answering phones and scrolling through social media like a drug-addled zombie looking for that next dopamine hit. Give me a camp chair, the stars, a campsite by a lake and a roaring campfire, and I'm in my happy place.
Finally, moto camping isn't difficult. Even for a rank amateur. You can moto camp for a little or as extravagantly as you want to within the confines of what will fit on your bike. While there are moto camping-specific products that are designed specifically for this task, if you're on a budget, most normal camping gear will work just as well and at a fraction of the cost. I'm still running the same 2 man backpacking tent as I did when backcountry camping years ago. It's small, light, waterproof and only cost me about $200, which is about $400 less than a moto camping-specific rig.
Moto camping can be done for 2 days or 2 years straight, and it's truly a fabulous way to see and experience adventure. I could, and likely will write an entire series on how to get started moto camping on a budget. But for now, I hope that the thought of twisting the throttle on an unknown road with the promise of a humble bed under the stars is dancing in your head. Stay tuned to this blog as I share some hard-won tips and tricks to empower you to experience moto camping and moto adventure at its absolute finest. Be it for the first time or for the 500th time.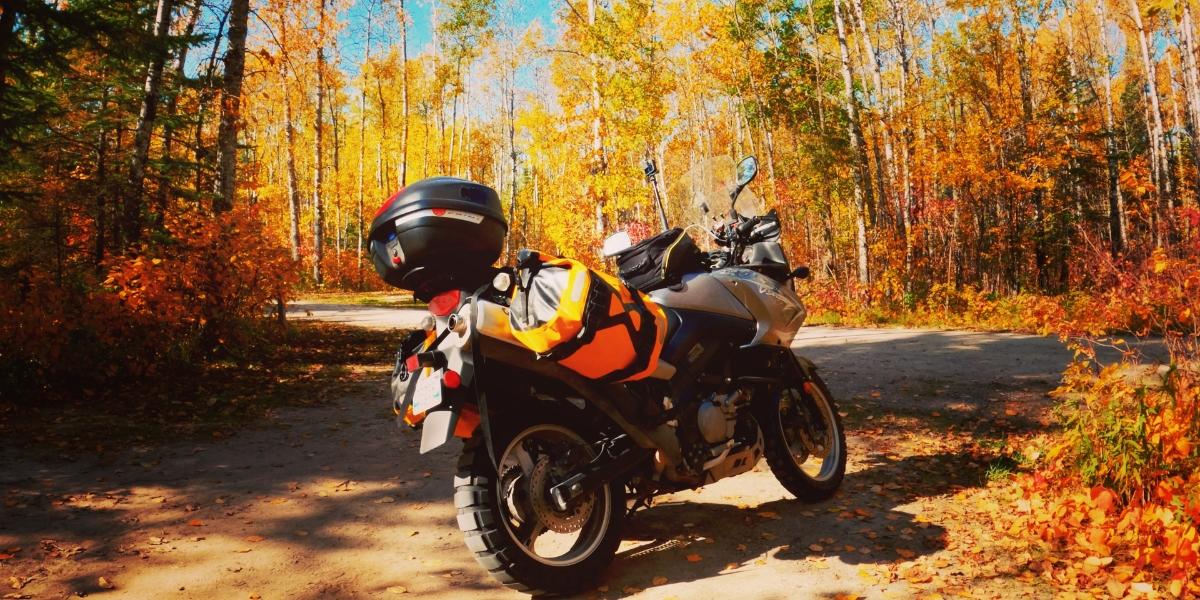 If you're new to moto camping, new to motorcycling or are simply looking for some fun routes to explore in Manitoba this summer, visit us here on the website or check us out on YouTube. Or, if you're looking to head out on an adventure and get hands-on moto camping training, why not join an Epic Rides Moto Tour?
Some reasons why you should book a tour with us:
Experience.
I've been a backcountry adventurer for over a decade. I've spent hundreds of nights camping and exploring some of the most remote parts of Canada, and I want to share my experience with you. My aim is to help you avoid the pitfalls that many first-time and even some seasoned moto campers make. I'll help you learn what to pack, how to pick a campsite and how to survive and thrive even when Mother Nature pitches a fit and throws nasty weather your way.
Community.
Epic Rides and Epic Rides Moto Tours is all about building community. I want you to learn how to be successful in your moto camping adventures, and when you ride with me, you become family. From helping another rider pick their bike up if it tips over at camp to sitting around the campfire laughing at the day's misadventures (of which there are always a few, no matter how much planning takes place!). Bonding over shared adventure and a mutual love of motorcycles and motorcycle adventure – it doesn't get any better than that!
Skills Building.
Even if you've never camped a day in your life, you'll leave any of our tours feeling rejuvenated and confident in the skills you learn over the course of the trip. From how to set up a tent, how to start a fire (no matter the weather) to packing tips and cooking delicious meals over an open fire, you'll learn basic camping skills that will serve you well on your next adventure.
Fun!
Every tour Epic Rides Moto Tours offers shares a greatest hits list of destinations, history, and landscapes that will help you experience Manitoba like never before. From amazing riding to scenic destinations, you'll arrive back from a tour dusty, tired, and grinning from ear to ear.
All Inclusive.
Epic Rides Moto Tours has you covered. With a dedicated support truck to carry supplies, to campsite rentals, meals, and more, you don't have to worry about anything except enjoying the experience. In special circumstances, Epic Rides Moto Tours will provide (for a small fee) a complete rental package of soft panniers, tent, sleeping pad, and all of the essentials needed to join us on a tour.
Are you looking for a new experience exploring Manitoba, off the beaten path, on your motorcycle? Is your journey as important as your destination when you ride?
Join one of our moto tours and become part of a group of like-minded fun-loving people who are hitting the open road for fun, multi-day journeys of riding, camping, and good times!
Join the Adventure!